We love natural fabrics for their drape, the feeling against the skin and the texture.
Poetry in Motion (Marylebone Journal, Feb/March 2020)
To read the original interview, please click here.
The Journal pays a visit to the London design studio of Poetry, a fashion brand with a penchant for slowness in an era obsessed with speed.
WORDS: LAUREN BRAVO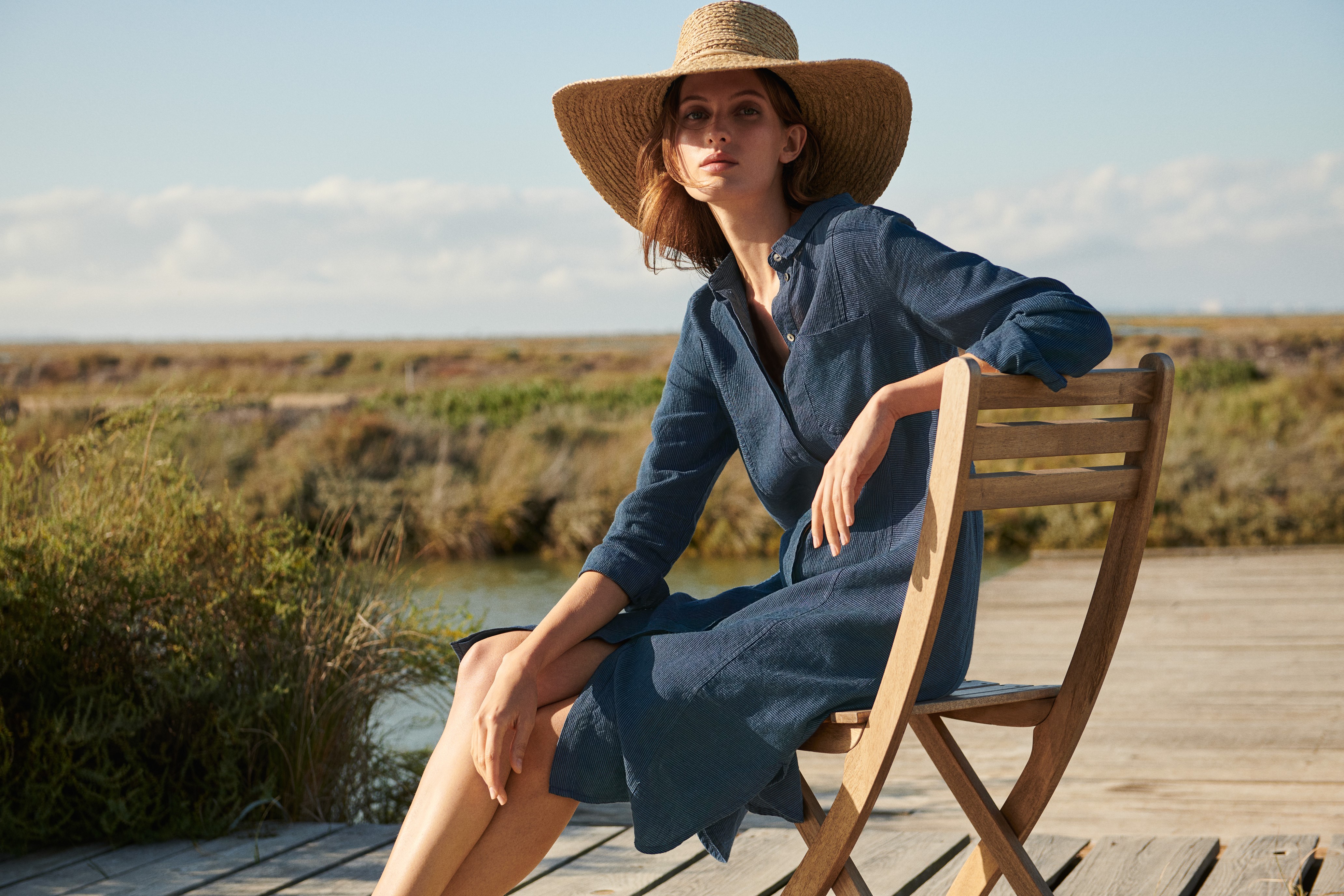 It all starts with the fabric. Never before have I looked this intently at a linen shirt, or possibly any shirt. I've stroked many a velvet trouser in my time, don't get me wrong, but not cooed over the superior warp and weft of a hemp-jersey blend, or admired an extra-wide placket. You see, I'm under the influence of Poetry—not freeform verse but its textile equivalent, Marylebone High Street's new kid on the block.
In fact, Poetry isn't 'new' at all: the womenswear brand has more than two decades under its belt as a catalogue and e-commerce line, winning loyal fans across the UK, USA and Germany with its elegantly understated aesthetic. Still, it's taken years to foray into bricks and mortar. Poetry's first stores, on Chelsea's Symons Street, opened in 2016 — and now, a little over three years later, they've come to Marylebone.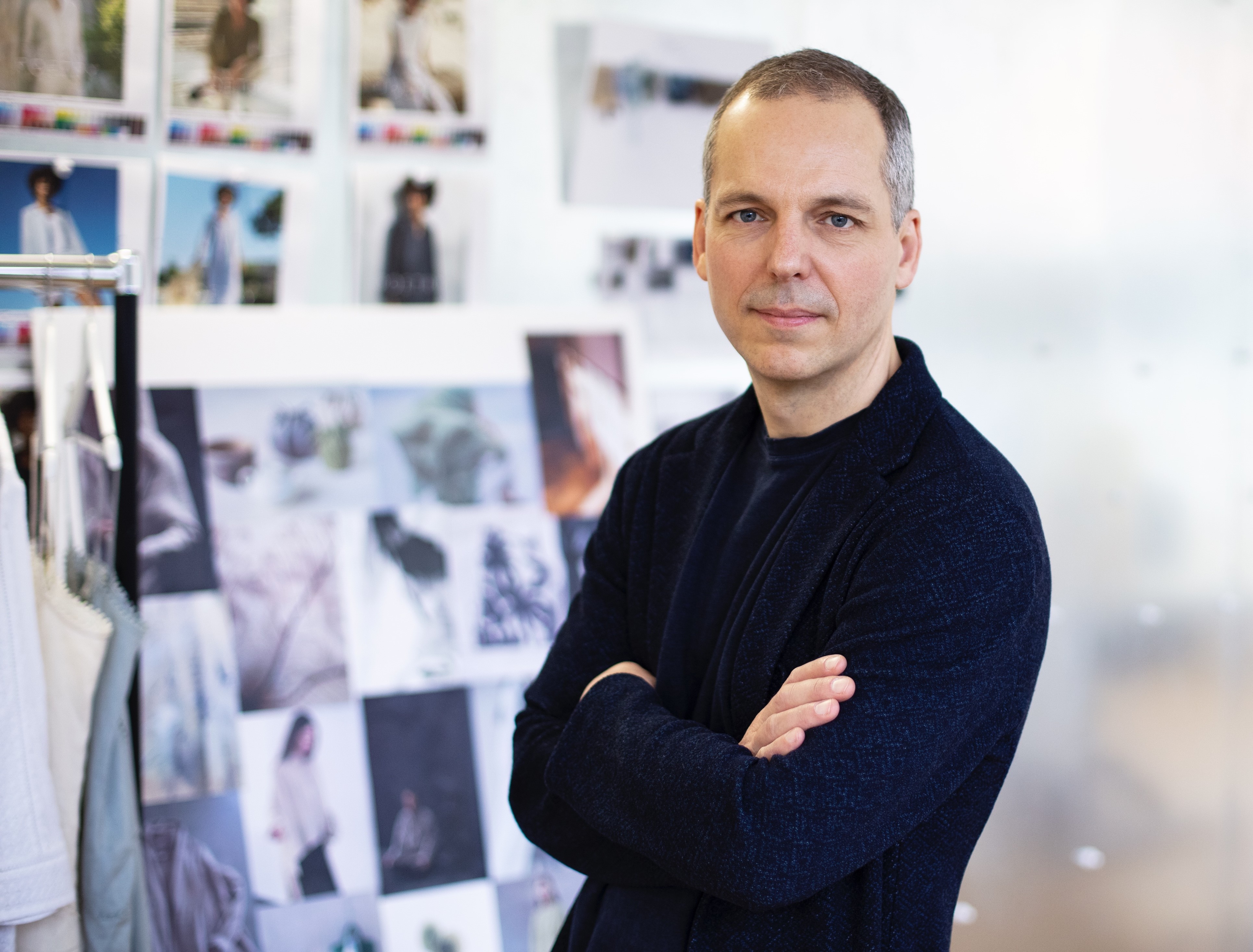 "Our process has always been slow," laughs founder Luke Dashper, at the brand's Putney studio. "We're in a different world to fast fashion." Unlike the big high street chains, which can take clothes from the drawing board to the shop floor in a matter of days, patience is a virtue here. "Good things take time," he says, showing me around the light- filled space covered in swatches and sketches. "You can't believe how much time it takes, when you consider every detail. We sit around for hours, analysing fabrics and discussing shades of blue."
That willingness to work at a different pace from most of the industry gives Poetry a very timely selling point: sustainability. There's nothing like a bout of eco-anxiety to take the shine off that brand new outfit— but at this point, the facts are hard to ignore. The global textile industry produces 1.2 billion tonnes of CO2 a year, a carbon footprint larger than civil aviation and maritime shipping combined. Every year in the UK alone, 300,000 tonnes of clothing end up in landfill—often barely used, as these days the average garment is worn just seven times. At the end of many complex and unwieldy supply chains you'll find poverty wages, inhumane working conditions, even modern slavery.
And while it's the cheapest brands that tend to come under the most scrutiny, a higher price tag is far from a get-out-of-guilt-free card. Premium fashion is often no more ethical than its budget counterparts. The annual Fashion Transparency Index by industry pressure group Fashion Revolution lists high-end labels like Chanel and Max Mara as some of its worst offenders, alongside Matalan and River Island. In fact, it's a confusing time for fashion fans all round, with many brands falling over themselves to announce 'conscious' collections, and grandiose pledges to do better, without necessarily making good on those promises.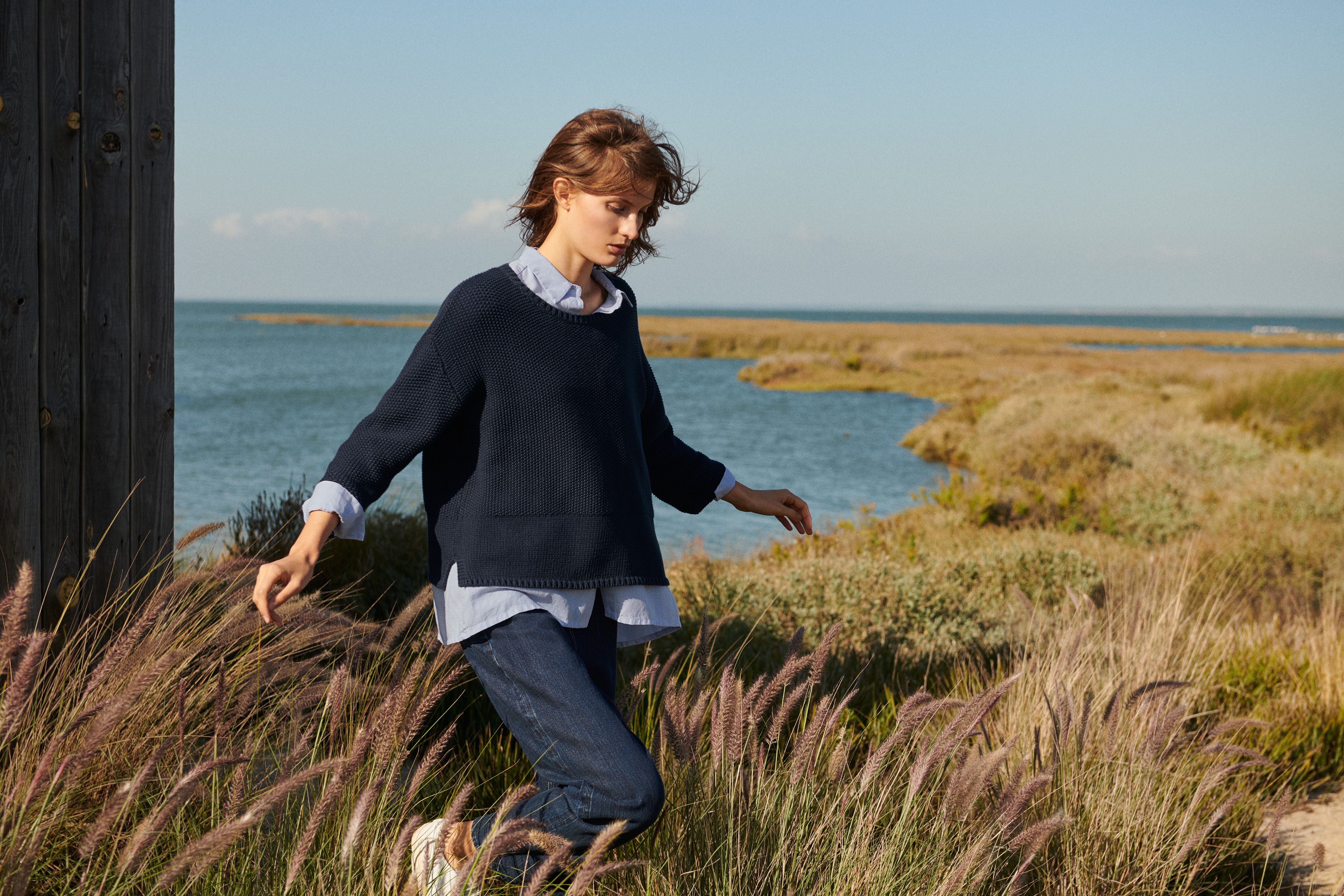 "I get a bit irritated because I see fashion businesses that are not sustainable, but they'll do one fabric that's organic and say they are," says Luke. "Lots of people are just bandying terms around." Still, making clothes with minimal impact to the planet is no easy feat, especially when you want them to have sartorial impact too. Poetry's clothes are all made from natural fibres, mostly linen, hemp, organic cotton and eco-friendly favourite Tencel. The brand is now in the process of switching all its viscose to EcoVero, a more sustainable, traceable fabric made with wood pulp sourced from responsibly managed forests. Orders are sent out in cardboard boxes, not bags, and thanks to small manufacturing runs,no clothes are ever sent to landfill.
But Luke is keen to point out that there's always more to be done—next up, eliminating plastic bags and hangers from their warehouse — and that growing interest among customers in traceability and ethics is keeping the brand on its toes. "I think all of a sudden, everyone is really conscious. Certainly in my world anyway. I can't buy a vegetable wrapped in plastic anymore," he says. Yet, he admits, in some ways Poetry's clothes are sustainable by chance. "We started using hemp not because it was good for the planet, if I'm honest, but because it's a lovely fabric and it makes nice clothes. That's always been my starting point: what makes beautiful clothes?" Focus on designing the best possible garment, he believes, "and the rest will take care of itself". Luke has been obsessed with beautiful clothes since he was a teenager. "I used to spend all my money on one jumper," he says. Under the influence of an eco-conscious mother ("her philosophy was 'buy once, buy well'") and an entrepreneurial father who ran a textile business in Loughborough, he left a corporate job in finance and logistics to launch Poetry—without any fashion or design training. "I've never drawn a dress," he admits. "But I learned through hiring good people and then through experience."
Two decades later, the Poetry team is still small and focused. There are just 14 in the brand's studio, with a warehouse and operations team based in Leicester, run by Luke's wife Hannah. Then there are the factories; mostly small, owner-managed businesses in China, Hong Kong and Romania, which Luke regularly visits. But we might ask, can a 'Made in China' label truly be considered sustainable? Shouldn't they be made here? "There's just no way on earth this range of clothes could be made in Britain," he says. "There aren't the factories, they just don't exist." Once upon a time, they did. In the 1970s, the UK textile industry was booming. British-made brands like Viyella, Daks Simpson and John Smedley comfortably outfitted the nation and specialist factories employed around a million skilled workers across the country. But the turn of the millennium saw a mass exodus as the majority of western garment production was offshored, mostly to south and east Asia, a process known as "chasing the cheapest needle around the world".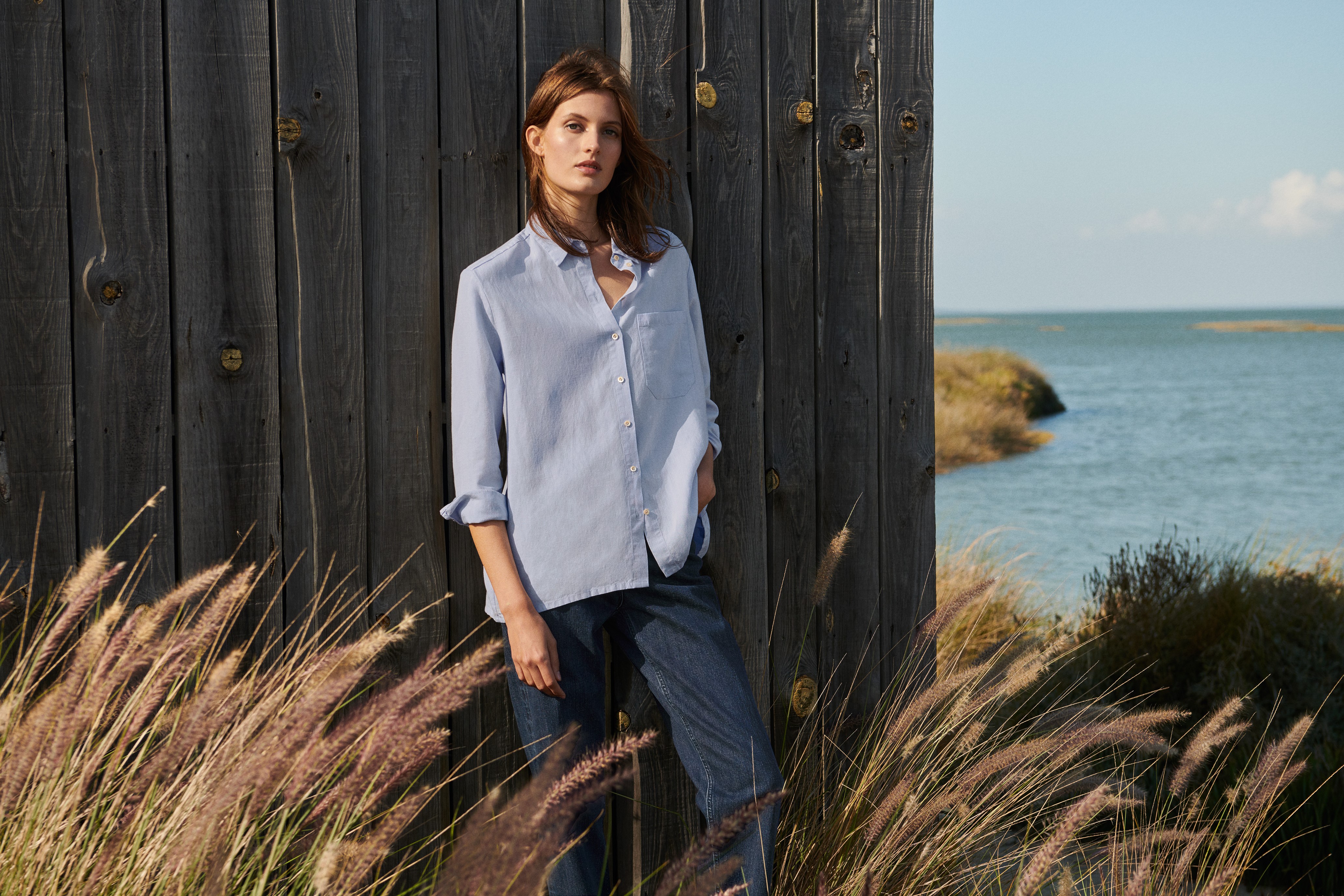 Slowly the tide is turning again, with a small resurgence in UK manufacturing—Jaeger, John Lewis and Clarks have all opened new factories here. But for now, Poetry is proud of its international suppliers, a list which includes Italian wool, Chinese silk and Peruvian alpaca yarn. "The best suppliers for a particular material tend to be those located where the material has a long history and is part of the culture," reads the brand manifesto. It's a multicultural blend that reflects the brand's birthplace, after all. "I'd say we're more a London brand than a British brand. Our look isn't traditional, it isn't tweedy jackets or Guernsey sweaters. It's much more contemporary," says Luke. In a landscape where the word 'luxury' can mean anything from ash labels to whipped cream on hot chocolate, he's clear on his personal definition. "Not 'dressing-up' luxury; it's luxury in comfort. Clothes that feel lovely to wear."
Poetry's silhouettes are roomy, but not in a way that only Scandinavian architects can pull off. Colours are equally understated—in fashion speak, "greyed-off, subtle, muted"— with a harmonious palette that evolves from season to season but rarely ventures into the realm of the bright, the stark or the splashy. And what about (whisper it) trends? "Some brands dictate trends to their customers, whereas our customers have a point of view, an established aesthetic," says Luke. "They know what they like. Understanding what they want is more important to us than whatever's coming down the catwalk this season.
They're clothes that our customers build their wardrobes around and they wear them for a long time." He pauses. "Unfortunately." Fickle fads might be the antithesis of Poetry's long-wear philosophy, but don't make the mistake of thinking it's anti-fashion, either. "We plough our own furrow, but we don't exist in a bubble," he adds. "We don't do 'classic'. Nothing we do is classic. If we do a cashmere v-neck, for example, it'll be a bit oversized with a dropped shoulder."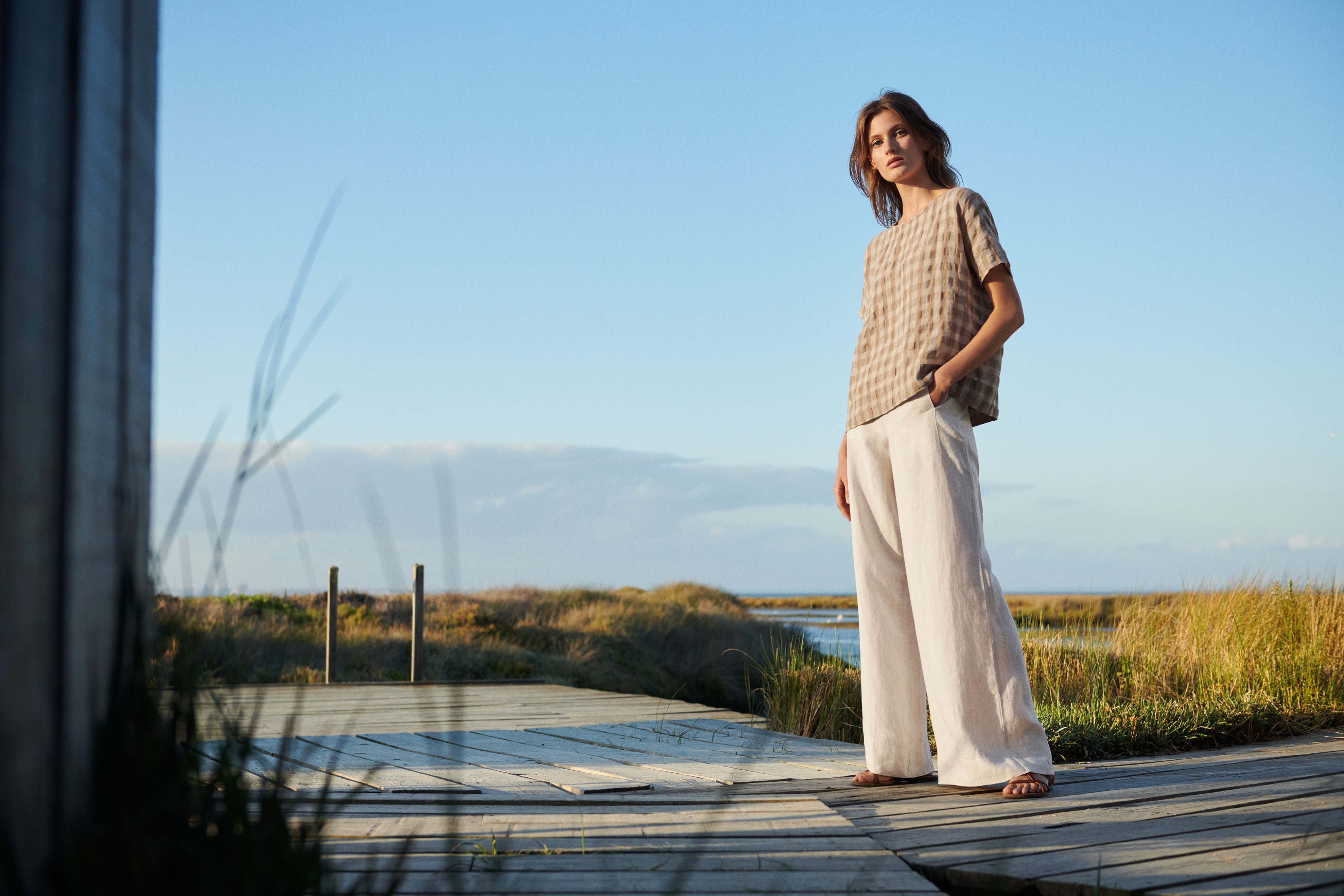 Nor does the brand go after celeb endorsements ("Meryl Streep maybe?") or chase certain demographics. "It's interesting, we don't ever talk about the age of the customer," says Luke. "Last week in the Marylebone store we had a 20-something woman and a 60-something woman both trying on clothes at the same time." Luke maintains that attitude and lifestyle have a much greater bearing. "If we started designing clothes 'for older people' then they'd definitely stop shopping with us. Nobody wants that." What they do want is a pleasant experience. In an age of mindless scrolling and one-click purchases, the tactile reality of an 'IRL' store serves two purposes: to introduce new customers to Poetry, and to provide kind of pilgrimage for the brand's existing mail order fans.
"It makes complete sense to have retail," says Luke. "I believe in real world experience, socialising and interacting with other human beings. We make clothes out of beautiful fabrics, and there's nothing like touching and feeling the real thing." How does he want people to feel when they step into a Poetry store? "Very calm, very comfortable and relaxed," he says. There's the warm, tonal colour palette. The artfully soft lighting. The fresh displays by florist Rob Van Helden. Not here the pushy sales tactics or sneeze-and you're-dead tension of some high-end boutiques; Poetry wants you to get up close and personal with the clothes.
"The shops are not about maximising sales per day per square foot. It's part of the whole relationship." To complete the in-store experience, the brand has introduced a 'Poetry by appointment' service, where customers can book a shopping slot online and request the clothes they'd like to try on in advance, so they're guaranteed the right items and the right size will be waiting for them (unlike the majority of sustainably-focused brands, Poetry's clothes go up to a size 22). There's no obligation to buy anything you try. Earning customer loyalty, just like making good clothes, is a long game. And it pays off. "If I ever need my day brightened, I just go onto our website and read the reviews," says Luke. "Often I read reviews where people say, 'thank you Poetry, I'm so glad I found you'. It's an emotional thing. It isn't just about keeping people warm and decent. If you like your clothes, you feel better about yourself. You feel good."